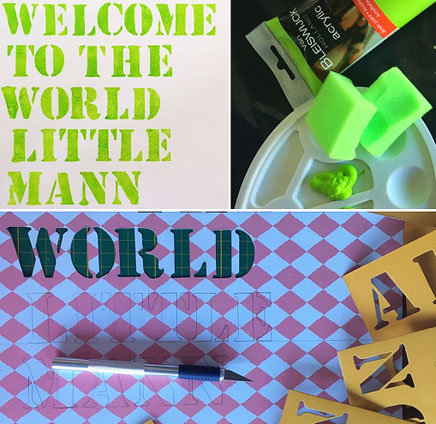 Finding the perfect gift for any occasion is always hard. Finding an original gift makes it even harder. If you want to make something that is out of the ordinary and is not something that will end up on a pile to throw away, it is even harder. 
And then I thought.... of course mummy and daddy have already prepared a nursery and in the best case you even know what color scheme they have used. So why not make a quirky element for the little one´s nursery. 
Of course this quote works best with a boy. But you can also change the quote into a powerful message like "Welcome to the world wonder-woman". Or "Welcome to the world little one". In this particularity case, the surname of baby was also Mann. So I even got a little word joke out of it. 
Materials needed: 
Canvas
Primer and color of choice in paint
Stencil paper - plastic of strong cardboard
Spray-on glue
Cutter knife
Sponge
Stencil letters or stickers
Quote of choice
How to: 
First put a primer on your canvas in case this has not yet happened. While the primer is taking it's time to dry, you can make your stencil. 
Before writing your quote, make sure that it fits your template as well as the size of the canvas. So you probably need to play around with it. Once you know how to align your quote, you take your stencil and you draw a straight line where you want the words to be. This is to avoid that your letters are not all on the same level and it looks like they are dancing around. 
Then copy your words onto the stencil. If you do not have letters where you can use the outline, use stickers. Just paste the stickers onto the stencil and later cut around the sticker. In the next step, take a cutter knife with a scharp point and cut out all your words. Sometimes it is quite practical to use a rules for the straight lines. So know the stencil is ready. 
Spray glue on your stencil and arrange it on the canvas. Press carefully so no paint can go under the stencil. Then take a sponge and dip it in your paint. Start dipping on the letters. Use subtle shades of the same color blue sponging certain parts more than others.
Keep in mind: 
Off course you can use different colors and create some kind of shade-effect throughout the word. 
Or you paint the canvas and make the quote by using stickers directly onto the canvas. Then there is no need to create a stencil. Watch out that they are not to adhesive otherwise the canvas will get damaged. 
I have made this as a gift for a baby but you can of course do this as a gift for a birthday of a colleague that goes away or....