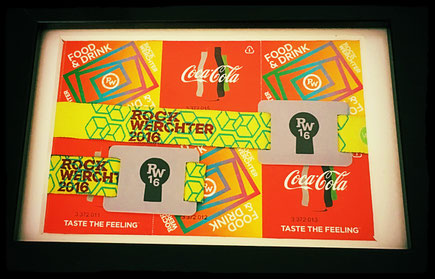 I try to save all my memories. Not that i am a hoarder of everything and anything but special events, moments that touched my heart, small things that instantly remind me of something,... i like to save. Small things like concert tickets or even a label or chocolate wrap, I keep. 
Once every so often I combine them into collages. They could be all around an event or a theme, or just by color or just fun. A couple of years ago I was travelling through Bali and i found a four-leaved clover. I dried it immediately between my book and once home i combined it with a little bird. Colors that reminded me of my travel. 
My husband needs to travel for work from time to time. During large meetings they have some kind of play-doh on the tables to stimulate creativity. The first time he went on  business trip he has made me a flower with a card. And now it has become a tradition to bring back a small flower. I look forward to it each time. I have now put all of them in a 3D frame so I can enjoy them more. 
For me it is a way of safeguarding memories. 
Materials needed
small bits and pieces such as concert tickets, entry tickets, name tags, cork,... everything and anything that makes YOU happy and that put a smile on your face
picture frame. I prefer the ones from Ikea (Ribba), but you van use whatever frame you want that matches your interior
glue - can be normal glue or 3D-glue if you wish to put some perspective in it
double-sided tape -if you do not wish to glue everything together
you can use colored paper or paper with a pattern on as a background. That way if you have an empty space it is less obvious
How to
This is actually very straightforward. You can use the paper that comes with the frame or use another one. First put on everything as you want it. It is a matter of trial and error. Try grouping similar items or shift them in opposite corners. Try to tell a story with the items. Just play with it until you have something that is satisfying. 
Once everything is in place you can glue it all together. After cleaning your frame and the glass, carefully place it in and secure it. 
Keep in mind
All you now need to do is find the perfect spot for it. Just a small reminder, not everything needed to hang. You can also make one that stands on your desk. 

Do not overcrowd your collage with too many things to avoid that it becomes a dump.