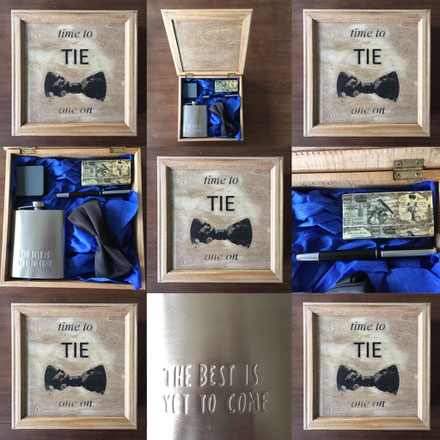 Asking your Maid of Honor seems rather straightforward as there are numerous presents or fun ways to ask your friend for the job. When it comes down to asking your best man, it seems to be a bit more difficult to find original ways to pop the question.
Recently I created a fun way of asking my brother in law for the job. As it was around the Holidays, it was the season to share gifts. So why not surprise him with a New Years present? 
I looked for a basic timber box, plain wood and just a little trim on the front. But of course other sizes are also possible, this is not a given. 
On the front we needed something fun and it should be a little teaser at the same time. So I opted for the sentence "time to TIE one on" and this in combination with a cute bow-tie. 
The quote was printed on transferring paper and then ironed onto the box. By playing with the heat and the movements, i created more depth and structure into the bow-tie. This was a deliberate choice as i did not want sharp clear lines. Some excess glue needed to be sanded of with small pieces of sanding paper, very carefully. Afterwards I waxed the boxed with a dark beeswax. 
And ready was the box. Now you can fill it with all kinds of fun things. You can put confetti in there and let them look for a message in the confetti, or you can just put a note in there. I opted for a combination of practical presents that can all be used on the 'Big Day'.
There was 
a powerbank - because you need to have your handy fully charged to take pictures on the big day
a flask - because you need "water" perhaps on the big day
a bow-tie (in line with the message on the box of course) - because one needs to look very smart and handsome on this day
a pen with ink fillings - because your best man needs to sign really important documents on this day
Of course you can accompany this with a nice letter that explains everything and at the end you of course mention if he wants to be your best man on your big day.