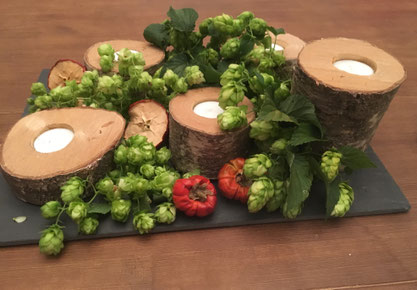 Falling autumn leaves, a nice walk in the park, looking for mushrooms under the trees,... filling your bags with all good things nature has to offer. Making your own centerpiece using all these elements can create immediate atmosphere to your home.
a couple of years ago I obtained there nice wood logs from a friend of mine. Directly found in the woods, cut to my wish, ideal to use as a base.
I arranged the logs playful according to height and filled the room in between with hop. The advantage of using hop is that for quite some time it also releases a wonderful smell in your home. For some finishes I have used dried disks of apple and some peppers. But one can use different dried elements such as chessnuts, wallnuts, .....